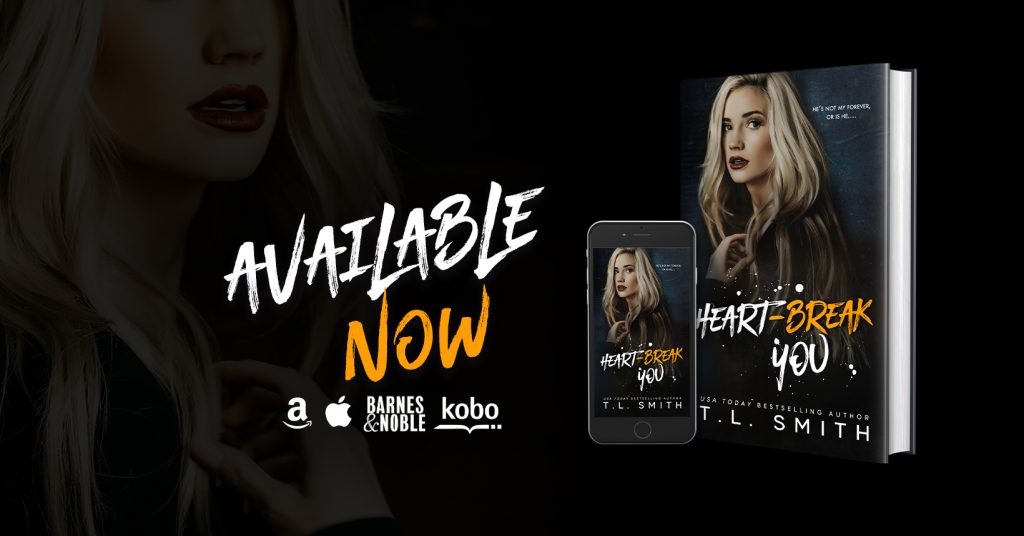 🔥🔥 HOT NEW RELEASE 🔥🔥
Heartbreak You, the conclusion of the Heartbreak Duet, by T.L. Smith is LIVE! One-click today!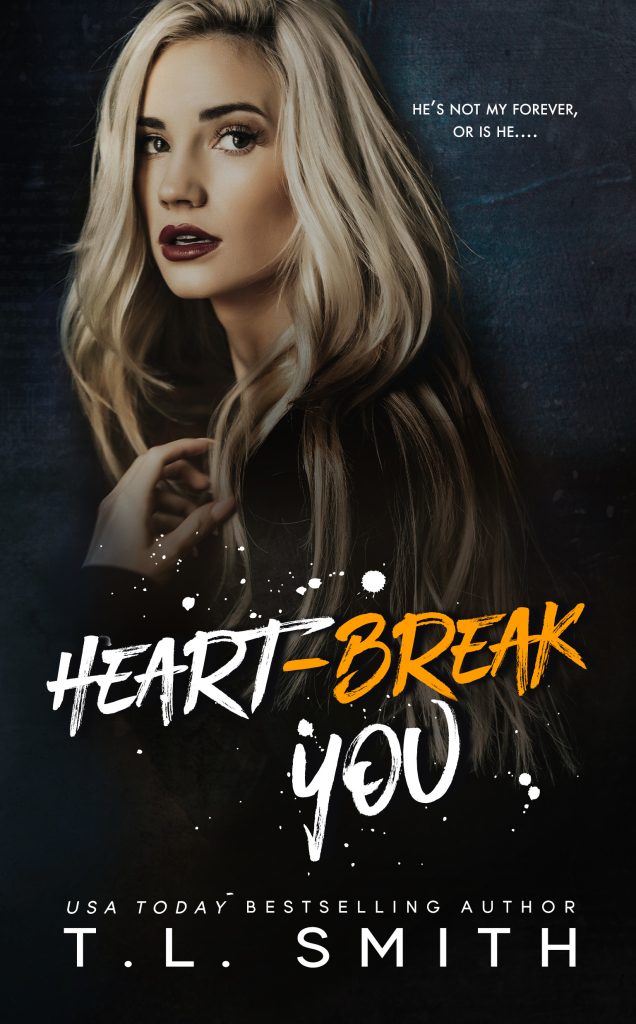 BLURB Our story didn't exist, it was broken before it began. Kisses were covered with lies. Lies were covered with kisses. Hate turned into lust. And lust turned into fantasy. That's what we were, a fantasy. Nothing more, nothing less. Now it's time to move on. But how can you when your heart wants to say stuck in the fantasy? When even through all the lies and kisses, you still have lust.  
Lita T's Review: 5 STARS
Heartbreak You (Heartbreak Duet# 2) by T.L. Smith. This story picks up where book 1 left off. Theadora is waiting for help. Lucy has lost a lot of blood. Atlas has left with Benji's dead body and Nicholas is dead. After help arrives and Theadora is alone she now has to deal with the aftermath. Atlas hates her for getting his family killed but at the same time he can't stop wanting her. To add to the mix a surprise with Lucy complicates matters with both Atlas and Theadora. At wits end a change of scenery for Theadora gives everyone perspective. The chemistry is still there between Atlas and Theadora but with all that has happened, will it allow these two a happily ever after. I couldn't wait for this book to come out and I was not disappointed. Atlas and Theadora have a magic together that made for a good story. The twist and turns was an unexpected surprise that just added more to their story. By the end I was left with my mouth wide open. I couldn't and didn't put this book down till I was finished. Any chance I get to read this author I jump at the chance. I haven't been disappointed yet. 5 stars for me. Bring on the next book!
Heartbreak You by T.L. Smith
Tanya Rae's rating: 5 of 5 stars
Heartbreak You is the 2nd and final book in the Heartbreak Duet. We were left with an OMG cliffhanger with Heartbreak Me. This book picks up where the first book left us off and is a continuation of Atlas Hyde and Theadora Fitzgerald's story.
Atlas had kidnapped Theadora, in book 1 so that she could repay Lucy's (Theadora's half-sister) debt in Heartbreak Me.
Atlas doesn't want to have anything to do with Theodora now. He feels she got his cousin Benji and Nicholas killed. Of course Atlas and Theodora can't stay away from each other! Lucy does try and interfere and does everything she can to get Atlas for herself.
I have no kind words toward Lucy and I feel I should. She is mentally disturbed.
T.L Smith does create a story that makes you not want to put her books down. I loved reading the Heartbreak Duet and can't wait to read more from this author! 5 STARS
PURCHASE LINKS
Apple ➜ https://apple.co/2BtQP7X
Kobo ➜ https://bit.ly/2ZEtb0w
B&N ➜ https://bit.ly/2CSYH2T
Amazon ➜ https://amzn.to/2D4tEkQ
Amazon AUS ➜ https://amzn.to/2O25MjX
Amazon UK ➜ https://amzn.to/2C5uOfC
Amazon CAN ➜ https://amzn.to/3guUvVw
PURCHASE HEARTBREAK YOU, Book 1 
Apple ➜ https://apple.co/3b5txAJ
Kobo ➜ https://bit.ly/2VXLY6i
B&N ➜ https://bit.ly/2WvahaJ
Amazon ➜  https://amzn.to/3bA1Dgv
Amazon AUS ➜ https://amzn.to/3bJkBBL
Amazon UK ➜ https://amzn.to/3fT3YXt
Amazon CAN ➜ https://amzn.to/365e4jn
Google  ➜ https://bit.ly/3eeQZNM
ABOUT THE AUTHOR
USA Today Best Selling Author T.L. Smith loves to write her characters with flaws so beautiful and dark you can't turn away. Her books have been translated into several languages. If you don't catch up with her in her home state of Queensland, Australia you can usually find her travelling the world, either sitting on a beach in Bali or exploring Alcatraz in San Francisco or walking the streets of New York.
AUTHOR LINKS
FB Page – http://bit.ly/2jcw1J3
Instagram – http://bit.ly/2Bk4qgr
BookBub – http://bit.ly/2AkHdJp
Reader Group – http://bit.ly/2zHDe6N
Amazon – http://amzn.to/2kLyKtm
Newsletter sign up – http://www.tlsmithauthor.com/newsletter/
Text TLSmith to 312-728-8217 (US only for new releases of mine)