💚 ℍ𝕠𝕥 ℕ𝕖𝕨 ℝ𝕖𝕝𝕖𝕒𝕤𝕖 💚
𝑮𝒍𝒂𝒔𝒔 𝑯𝒆𝒂𝒓𝒕 𝑩𝒓𝒐𝒌𝒆𝒏, 𝒃𝒐𝒐𝒌 𝒕𝒘𝒐 𝒊𝒏 𝒕𝒉𝒆 𝑮𝒍𝒂𝒔𝒔 𝑯𝒆𝒂𝒓𝒕 𝑨𝒄𝒂𝒅𝒆𝒎𝒚 𝒔𝒆𝒓𝒊𝒆𝒔 𝒇𝒓𝒐𝒎 𝑳𝒊𝒏𝒅𝒔𝒆𝒚 𝑰𝒍𝒆𝒓 𝒊𝒔 𝑳𝑰𝑽𝑬! #𝑶𝒏𝒆-𝒄𝒍𝒊𝒄𝒌 𝒕𝒐𝒅𝒂𝒚!


BOOK BLURB

 

LIES. SECRETS. MAYHEM.

The campus of Glass Heart Academy will never be the same once we're through with it.



Palmer

They tried to break me, but they underestimated my strength.

When Marek says things aren't always what they seem, I don't want to believe him.

Now, I know the dark truth in his words.

As a participating player in this wicked game, how do I know who to trust when it seems our past is doomed to repeat itself?



Marek

Cruelty is my love language, and Palmer's ready to make me pay for it.

We both know we shouldn't want what's right in front of us.

Will she accept the dark, broken pieces of me, or will she always watch over her shoulder, waiting for my blade to take pieces of her she doesn't know are exposed?

While we try to find ourselves in each other, darkness continues to follow us, setting off a series of events no one is prepared for.

What will be the cost of exposing the truth that haunts us?

 

Add to your Goodreads TBR: https://bit.ly/GHBGoodreads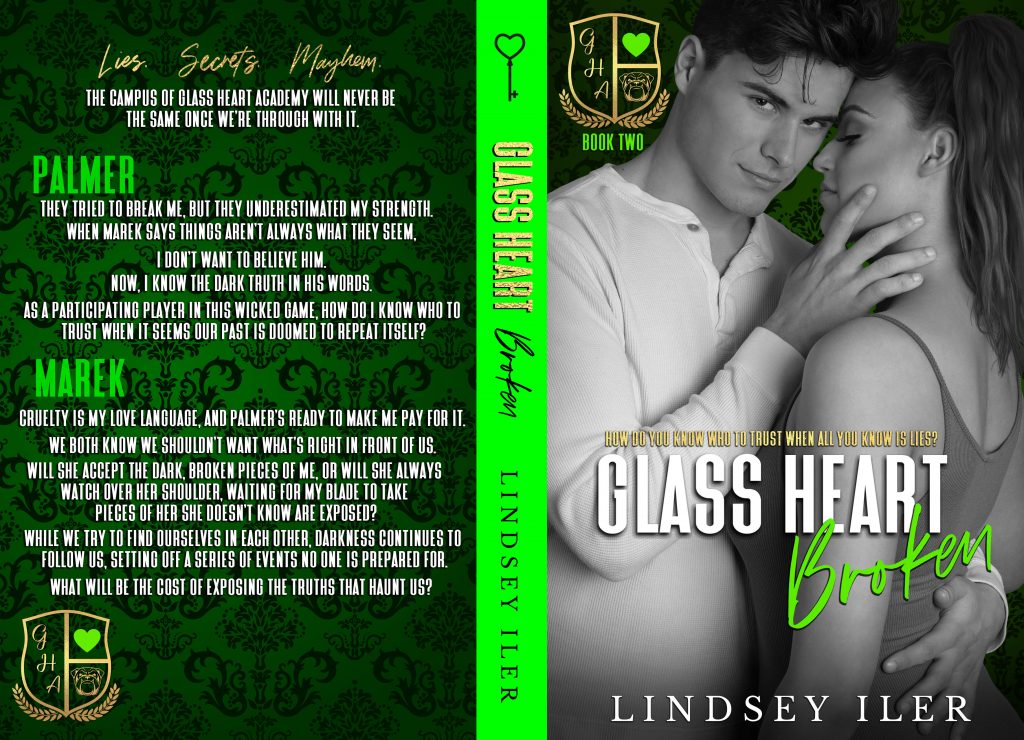 PURCHASE LINKS

Amazon Universal: mybook.to/GHB


Lita T's Review:  ⭐️ ⭐️ ⭐️ ⭐️
Glass Heart Broken( Glass Heart Academy# 2) by Lindsey Iler is the conclusion of the mystery. Last book Palmer reveals she believes her sister is not dead but truly alive. Marek has been arrested as a suspect in 2 of the girl. This story was like Alice falling down the rabbit hole. At times I was confused as Palmer was with her feelings regarding the guys. She didn't know how to feel about them especially after the roof. Her confusion regarding how she felt about Marek really had her in a tizzy.  Than like abracadabra Reed pops back up and her explanation for her disappearance is rather sketchy.  To make matters worse Reed's passive aggressive behavior towards Palmer is strange especially since Reed was supposed to be with Byron not Marek.  Than just as quick as Reed appears she disappears. Other strange things start happening. As the group keep trying to solve the disappearances of the girls at the school something very sinister is at hand. Like I said a rabbit hole. Regardless I loved the characters. I wanted to see Palmer and Marek get their Happily ever after. I wanted to know what happened to the other guys. Was definitely thrown for loop by Ms. Reed and who she turned out to be. So looking forward to the next book. I want to catch up with the gang and see what becomes of them all. 4 stars for me. 
Bettina A's Review:  ⭐️ ⭐️ ⭐️ ⭐️ 
Glass Heart Broken By Lindsey Iler   
Where do I begin? First and foremost I did enjoy this book. Did I finish it in one, two, or three sitting? No, and I'll tell you why. I felt that this book was too repetitive, the back and forth between Marek and Palmer got kind of old. The book picks up where book 1 ended and they are still trying to find the people involved with the missing girls. To the public Palmer was treated horrible but behind closed door it was a different story,I feel like it shouldn't have been dragged out for so long. There where some good twists in the book that I enjoyed. I don't to give anything away. The author did do a good job of keeping me in the dark with who are the ones behind the kidnappings and terror around the campus. I would recommend this book to others.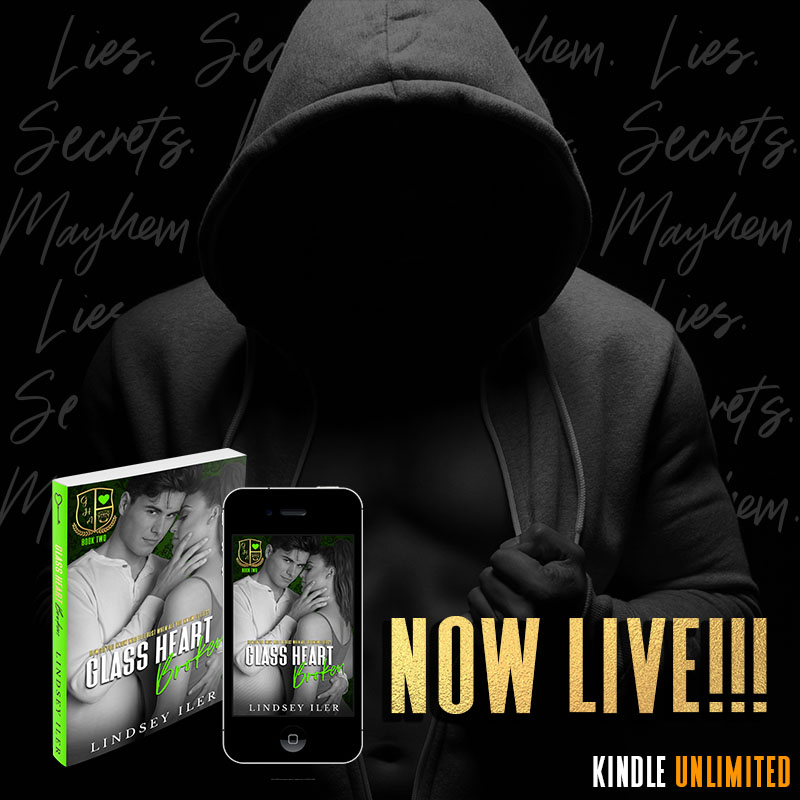 Catch up with the series!

Glass Heart Savage, Book One

Goodreads: http://bit.ly/GHSgoodreads

Amazon: mybook.to/GHS

GIVEAWAY

To celebrate the release of Glass Heart Broken, Lindsey Iler is giving away a $15 Amazon gift card and a paperback of both Glass Heart Savage and Glass Heart Broken! Stop by her Facebook page to enter: http://www.facebook.com/lindseyilerbooks

TEASERS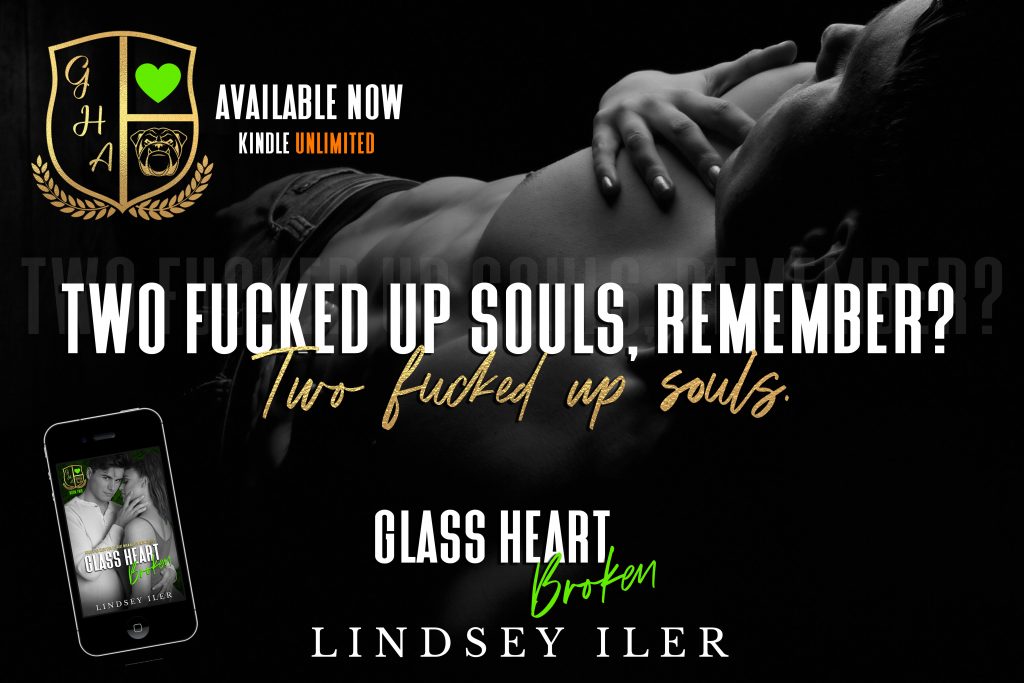 ABOUT THE AUTHOR




Lindsey Iler has had her feet planted in the state of Michigan since she was born and she still lives there with her husband and four kids.

When she's not writing, she's spending time with family and friends, listening to music, and reading.

Lindsey writes mature young adult/new adult romance. She falls in love with every character that pops into her head and is notorious for writing long chapters in her notes on her iPhone.

She finds inspiration from music and the people around her.

 

AUTHOR LINKS

Website | Newsletter | E-mail | Facebook | Facebook Reader Group | BookBub | Goodreads | Amazon Page