🖤🖤 𝑯𝑶𝑻 𝑵𝑬𝑾 𝑹𝑬𝑳𝑬𝑨𝑺𝑬 🖤🖤
𝙈𝙮 𝘽𝙚𝙖𝙪𝙩𝙞𝙛𝙪𝙡 𝙋𝙤𝙞𝙨𝙤𝙣, 𝙗𝙤𝙤𝙠 𝙤𝙣𝙚 𝙞𝙣 𝙒𝙞𝙘𝙠𝙚𝙙 𝙋𝙤𝙞𝙨𝙤𝙣 𝙨𝙚𝙧𝙞𝙚𝙨 𝙗𝙮 𝙐𝙎𝘼 𝙏𝙤𝙙𝙖𝙮 𝙗𝙚𝙨𝙩 𝙨𝙚𝙡𝙡𝙞𝙣𝙜 𝙖𝙪𝙩𝙝𝙤𝙧 𝙏.𝙇. 𝙎𝙢𝙞𝙩𝙝 𝙞𝙨 𝙇𝙄𝙑𝙀!!
#𝟭-𝗰𝗹𝗶𝗰𝗸 𝘁𝗼𝗱𝗮𝘆!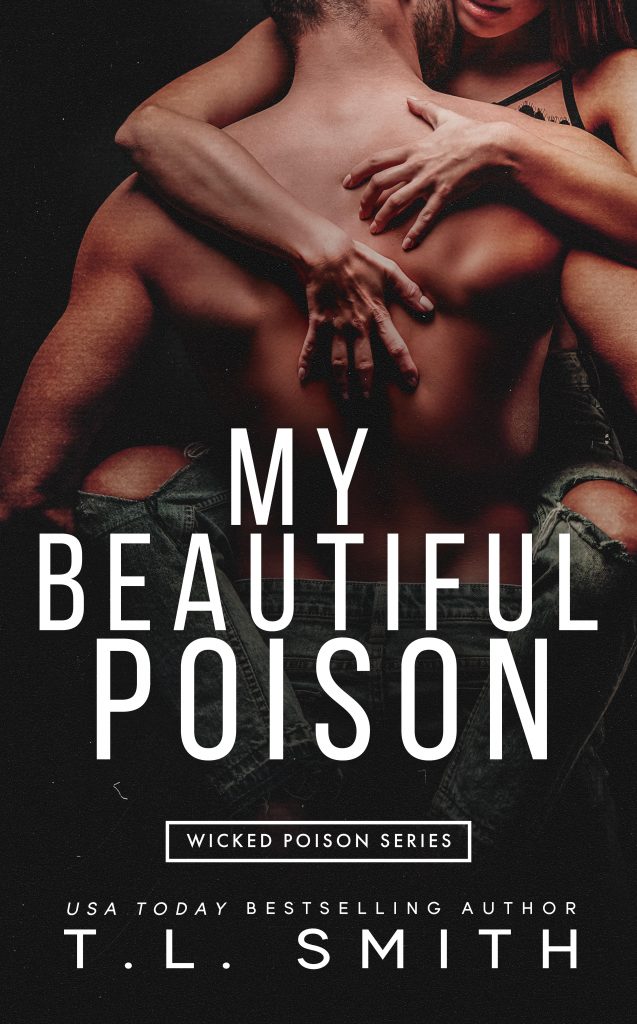 MY BEAUTIFUL POISON BLURB

I forgave him for the lies he told.

And I forgave him for breaking my body with his touch.

But I couldn't forgive myself for staying.

Until I met you… my antidote.

I knew I couldn't keep forgiving him, when I could be safe in your arms.

With your touch, there were no tears.

With your kisses, I could finally breathe.

You might be the villain in everyone's story…

But not mine.

PURCHASE LINKS

Apple ➜ https://apple.co/2DVFfTV

Kobo ➜ https://bit.ly/3j6FjzF

B&N ➜ https://bit.ly/3ndQBVB

Amazon ➜ https://amzn.to/2G8NVan

Amazon Aus ➜ https://amzn.to/360Q3fg

Amazon UK ➜ https://amzn.to/2HsMhBi

GR ➜ https://bit.ly/2Gm9pRU


Lita T's Review: 5 Stars
My Beautiful Poison (Wicked Poison # 1) by T.L Smith. This is a story about Rylee a young lady who has a lot of pressure in her life. She is considered the good sister to her identical twin and has the weight of her parent's expectations on her shoulder. One of those expectations is to marry her abusive boyfriend. When August an old classmate who has been in prison for the last 6 years comes back to town, Rylee finds herself drawn to him. August has been in prison for a crime he didn't commit. When released he finds himself striking up a relationship with the rich girl. Being from the wrong side of the tracks and having prison hanging over his head, the last thing he needs is getting involved with Rylee. I love this author's bad boy stories. The tension between Rylee and August is hot and steamy.  Their interaction draws you into the story and had me salivating by the end. I am so looking forward to the conclusion of their story. With so many obstacles they need to overcome, it is a crap shoot if they will ever get their happily ever after.  August is some kinda yummy. And eventhough he wants to and is trying to do better old forces are at work that want to drag him back to a lifestyle he doesn't want to be a part of.  I am cheering for Rylee and August. We will just have to see what happens to them. A fabulous start to their story.  5 stars for me.
Bettina A's Review: 5 Stars
T.L. Smith does it again!!! Another book I could not stop reading. Rylee and August are complete opposites. Both being from two different worlds and yet something draws them together. Well draws Rylee to August. She has experienced how a man could be bad and she doesn't feel that around August. She feels safe. Unfortunately, August had a hard childhood that made him into the man he is today, it's not easy to trust and let someone in especially someone who rich. Yet something about Rylee stirs him. Can two different people be together?
Rylee had a backbone and is always surprising August and honestly me. When I thought she would act one way she didn't. She isn't the typical rich girl he keeps calling her. That's one the things I liked about this book. August has a past but he is a caring guy once he lets you in. I like that he isn't easy to figure out. You never know what his mood will be and if he will be nice or not. NEVER abusive! He's someone who is jaded because of his past but is trying to overcome it. The ending is kind of a cliffhanger but not the kind that will make you want to throw your device at the wall. I am gutted at how it ends but honestly looking forward to the next book. T.L. Smith may I have it tomorrow? Okay on New Year's Day please? Lol.
My Beautiful Poison by T.L. Smith
Tanya Rae's rating: 5 of 5 stars

My Beautiful Poison is the first book in a new series Wicked Poison. This is August Trouble and Rylee Harley's story. She's the rich girl and he is from the wrong side of the tracks. So wrong in fact he has just gotten out of prison. Where he had been blamed for the whole robbery all by himself. His mother is a hopeless druggie and he had to fend for himself starting at a young age. August's nickname for Rylee is "rich girl".

This is another book that this author has written that makes you want to sit and read and not put your book down until you get to the ending! Of course this story ends on a cliffie.

Hopefully My Wicked Heart will be out soon. 


PRE-ORDER MY WICKED HEART, releasing February 9th

Amazon ➜ https://amzn.to/2GUczwe

Amazon Aus ➜ https://amzn.to/36qZiUK

Amazon UK ➜https://amzn.to/3kqRc3t

GR ➜https://bit.ly/2Uj0Ydr

ABOUT THE AUTHOR




USA Today Best Selling Author T.L. Smith loves to write her characters with flaws so beautiful and dark you can't turn away. Her books have been translated into several languages. If you don't catch up with her in her home state of Queensland, Australia you can usually find her travelling the world, either sitting on a beach in Bali or exploring Alcatraz in San Francisco or walking the streets of New York.

AUTHOR LINKS

FB Page | Instagram | BookBub | Reader Group | Amazon | Newsletter sign up

Text Club: Text TLSmith to 312-728-8217 (US only for new releases of mine)