🖤🖤 ℍ𝕆𝕋 ℕ𝔼𝕎 ℝ𝔼𝕃𝔼𝔸𝕊𝔼 🖤🖤
𝐌𝐲 𝐖𝐢𝐜𝐤𝐞𝐝 𝐇𝐞𝐚𝐫𝐭, 𝐖𝐢𝐜𝐤𝐞𝐝 𝐏𝐨𝐢𝐬𝐨𝐧 𝐁𝐨𝐨𝐤 𝟐, 𝐛𝐲 𝐔𝐒𝐀 𝐓𝐨𝐝𝐚𝐲 𝐁𝐞𝐬𝐭𝐬𝐞𝐥𝐥𝐢𝐧𝐠 𝐚𝐮𝐭𝐡𝐨𝐫, 𝐓.𝐋. 𝐒𝐦𝐢𝐭𝐡 𝐢𝐬 𝐋𝐈𝐕𝐄!
#𝟏-𝐜𝐥𝐢𝐜𝐤 𝐭𝐨𝐝𝐚𝐲!


BLURB 

He's a convict.

I am the prized daughter of a family known for their name.

We always knew it couldn't work, but that didn't mean we wouldn't try.

But when we did, it was all torn apart.

He was locked away.

And I was helpless to stop the mass destruction that followed.

He was wicked to my heart.

And just like poison, the effects can be dangerous.

 

PURCHASE LINKS

Apple ➜ https://apple.co/2GX0mqG

Amazon ➜ https://amzn.to/2GUczwe

Amazon Aus ➜ https://amzn.to/36qZiUK

Amazon UK ➜https://amzn.to/3kqRc3t

B&N ➜ http://bit.ly/35cA1xV

KOBO ➜ http://bit.ly/2LOdCjF

GR ➜https://bit.ly/2Uj0Ydr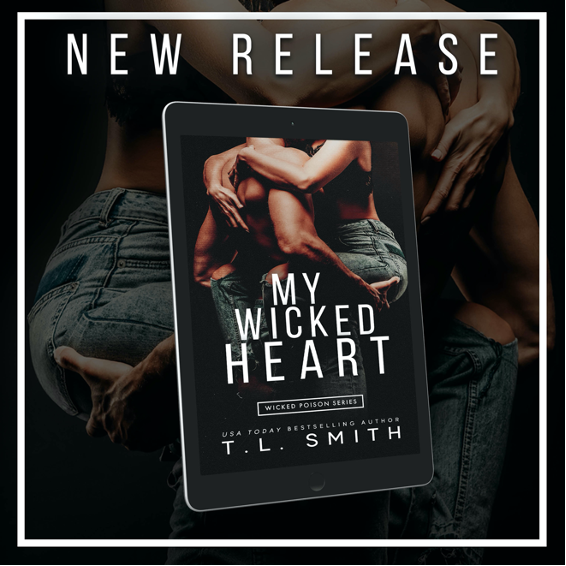 My Wicked Heart by T.L. Smith
Tanya Rae's rating: 5 of 5 stars

My Wicked Heart is the second book in the Wicked Poison series. This book wasn't on my Kindle for long once it landed there! My Beautiful Poison the first book ended on a cliffhanger so I couldn't wait to start reading this book.

My Wicked Heart picks up where My Beautiful Poison left off. August leaves and 5 years later he is back and my heart is breaking for Rylee.

This book went in a direction I didn't see it going. And, T.L. Smith kept throwing more curve balls that kept me on the edge of my seat while reading this book.

I loved reading My Wicked Heart and I got my HEA, finally no cliffhanger! My Wicked Heart held my attention all the way to the end!!! 5 wickedly good STARS.




Lita T's Review: 4.5 Stars
My Wicked Heart (Wicked Poison # 2) by T.L Smith picks up where book 1 left off. August is off the rails due to what has happened to his sister and revenge is on his mind. Because of his actions he shuts out Rylee which sends her into a tail spin. They love each other but he doesn't want his life choices to taint hers. Rylee is left with a broken heart and a little something extra when August leaves town and cuts off any communication with everyone he left behind. I was so looking forward to this book. I was not disappointed. When I started this book I didn't put it down until I had finished it. Needless to say I didn't get much sleep. I was draw in and wanted to know about the repercussions of what had happened and the broken pieces left behind. This author does not disappoint. A tale of love, hurt, redemption and reconnection. Wasn't expecting how this story went and am so looking forward to the brother getting a story.  Hint hints hint hint!!!He definitely deserves his story to be told and from how things went down with him I will just keep my fingers crossed. 4.5 stars for me.
Bettina A's Review: 4 Stars
Hmmm.. First and foremost I finished this book in less than 24 hours. I couldn't put it down even while at work. While I enjoyed reading more about Rylee and August I just didn't get the same feels like I did with book one. In the beginning I felt like I was thrown in the middle of chaos. I had to re read the last two chapters of My Wicked Poison to see if I forgot something. I will say I love Rylee and it's very often I love the female mc. She has a strength about her even when she's broken. She doesn't turn into a complete doormat. I also love that she is not petty to important things like Winter. So many others would have been bitter but she was not. August August August, idk if I should like him or not. I'm lying I like him. Instead of taking Rylee down the spiral he's going down he walked away. It takes a man to leave a good thing when he could ruin her. I am torn about how fast they fell back into old roles per say but I guess when you never stopped loving someone it's like starting where you left off. I would recommend this book to others to read. I am curious about the next two books. If Rylee and August got their HEA I wonder who can it be about. I hope to get a book or two about Beckham. He's starting to grow on me.

PURCHASE My Beautiful Poison, Book 1 in the Wicked Poison Duet!

Apple ➜ https://apple.co/2DVFfTV

Kobo ➜ https://bit.ly/3j6FjzF

B&N ➜ https://bit.ly/3ndQBVB

Amazon ➜ https://amzn.to/2G8NVan

Amazon Aus ➜ https://amzn.to/360Q3fg

Amazon UK ➜ https://amzn.to/2HsMhBi

GR ➜ https://bit.ly/2Gm9pRU

ABOUT THE AUTHOR




USA Today Best Selling Author T.L. Smith loves to write her characters with flaws so beautiful and dark you can't turn away. Her books have been translated into several languages. If you don't catch up with her in her home state of Queensland, Australia you can usually find her travelling the world, either sitting on a beach in Bali or exploring Alcatraz in San Francisco or walking the streets of New York.

AUTHOR LINKS

FB Page | Instagram | BookBub | Reader Group | Amazon | Newsletter sign up

Text Club: Text TLSmith to 312-728-8217 (US only for new releases of mine)