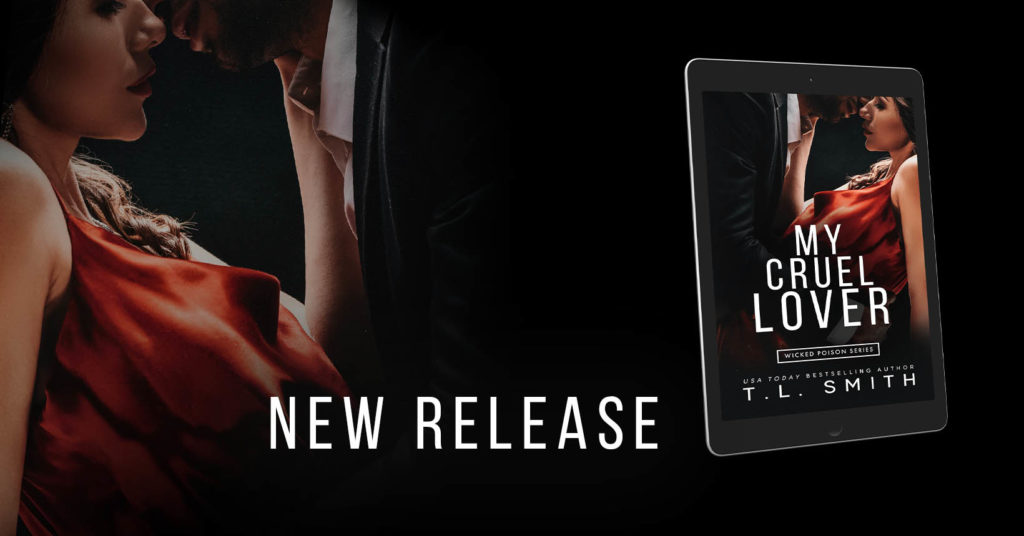 #𝙤𝙧𝙙𝙚𝙧 𝙩𝙤𝙙𝙖𝙮!

BOOK BLURB

My heart has been broken, torn to shreds.

I'm used to the game of pain.

Basically, I'm acquainted with it.

Some would say I've become immune.

That is…

… until him.

He's cruel, hard, and everything I should stay away from.

For one, he is my boss.

Second, well, I can't stay away.

But in this game of life, maybe pain is my love.

Or maybe I'm not seeing things clearly.

Because every time his hands touch me, it's anything but cruel.

Add to your Goodreads TBR ➜ https://bit.ly/MCL-GR

PURCHASE LINKS

Apple ➜ http://apple.co/36kqoxK

B&N ➜ http://bit.ly/3bDPVns

Amazon➜ https://amzn.to/2MxIfdm

Amazon Aus ➜ http://amzn.to/2YsStyc

Amazon UK ➜ http://amzn.to/3abPakF


Lita T's Book Review: 4 Stars
My Cruel Lover( Wicked Poison # 3) by T.L Smith is Rylee's brother Beckham's story. After the death of Paige he has spiraled out of control. He is a shrewd businessman but in his personal life he is a man whore and drinks way to much. Despite being a shrewd businessman he is cantankerous and abrasive to his personal assistant. When Jacinta walks into the job Beckham is twisted up in a knot over the efficient and equally gorgeous new assistant. Because of who Jacinta is to Rylee and their strange relationship, Beckham and Jacinta find themselves running into each other quite often. There seems to be some meddling going on within their circle of friends that isn't helping their work/personal relationship. I was looking forward to reading this book after the end of book 2. The relationship between Beckham and Jacinta had the right spice that had me loving their journey. Each had their own demons to exercise. Both damaged by circumstances in their life. The characters and issues from the previous books gave an added spice to the story. Catching up with the other characters was a treat with a little surprise. This author never disappoints with her stories.  I am always satisfied and will read her any chance I get. 4 stars for me.
My Cruel Lover by T.L. Smith
My rating: 4 of 5 stars

My Cruel Lover is the third book in the Wicked Poison series but can be read as a standalone. But I would recommend reading the series in order to not miss out on any of the build up of the other characters involved.

This is Rylee's brother, Beckham Harley story. The last time Beckham loved a woman she died. At first Beckham wasn't a very lovable character. In fact he was a big a**hole. And, Jacinta Leigh (the lucky or rather unlucky girl) works for him. Thank goodness Jacinta can go to Rylee for support with Beckham's harsh personality. Jacinta and Rylee have an unlikely friendship that you will learn about if you read book 2, My Wicked Heart.

I enjoyed reading My Cruel Lover and Beckham does become less abrasive and I actually found I loved him by the end of the book!


Bettina A's Book Review:  ⭐️ ⭐️ ⭐️ 
(3.5stars)
First and foremost Beckham is a huge jerk. With that being said I think he could haven been a lot worse. His redemption was too easy for me. Jacinta was hit and miss with me. Sometimes she was weak but a lot of the other times you saw that she had strength. In my opinion I didn't feel a strong chemistry between Beckham and Jacinta. It felt like they just transitioned into a relationship. With this said I do not regret reading this book. I know there will be others who like it a lot more than I did. One advice though, look at Beckham and Jacinta thru new eyes and not thru the eyes you looked at August and Rylee.


ABOUT THE AUTHOR




USA Today Best Selling Author T.L. Smith loves to write her characters with flaws so beautiful and dark you can't turn away. Her books have been translated into several languages. If you don't catch up with her in her home state of Queensland, Australia you can usually find her travelling the world, either sitting on a beach in Bali or exploring Alcatraz in San Francisco or walking the streets of New York.

 

AUTHOR LINKS

FB Page | Instagram | BookBub | Reader Group | Amazon | Newsletter sign up | TikTok

Text Club: Text TLSmith to 312-728-8217 (US only for new releases of mine)