KINGDOM FALL by A. Zavarelli

Release Date: November 9th

Genres/Tropes: Dark Mafia Romance
 

Kingdom Fall is part of the Underworld Kings Universe. A multi-author series of standalone books filled with mafia families waging war, danger and violence, arranged and forced marriages, angst, love, and everything in-between.

Light or dark, twisted or sweet, the Underworld Kings has something for every reader.

 

AVAILABLE NOW!! FREE IN KU!!

Amazon US: https://amzn.to/3077n1K

Amazon UK: https://amzn.to/31FTWq1

Amazon CA: https://amzn.to/3wqdPwy

Amazon AU: https://amzn.to/3mRQalj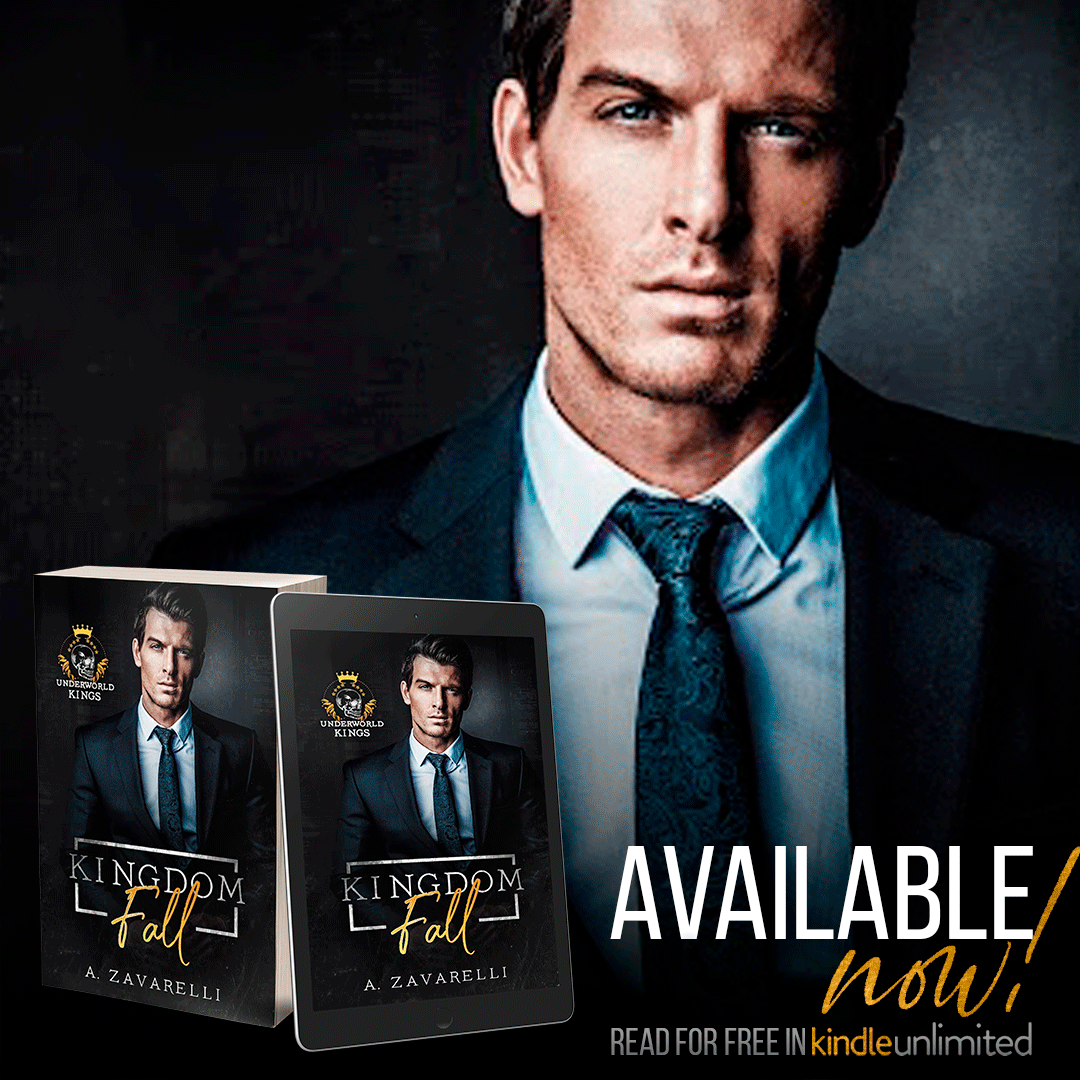 Add to Goodreads:

https://www.goodreads.com/book/show/58572211-kingdom-fall


Lita's Book Review: 4.5 Stars
Kingdom Fall(Underworld Kings Series) by A. Zavarelli is a very intriguing story about Alessio, a person who extracts information from people associated with the underworld among other talents regarding torture and murder. While doing business for the Ruin he is also looking for a nanny for his son Nino. There is something about Natalia that peaks his interest. She is qualified but she has apparently been through something that has taken her voice. Her explanation is an apparent lie and she is also not part of the Society. The cherry on the top is she isn't afraid of him and he can't stop thinking about her in a sexual way. When she meets Nino they have an instant connection that has a positive not on Nino but Nino and Alessio. As time past the feelings between Alessio and Natalia change. However due to past trauma Alessio has no intention of taking a wife and especially falling in love. When he finally discovers what Natalia has been hiding the chain of events is what really had me going regarding this story. I definitely didn't see that coming. When all of the secrets were revealed l was blown away. Loved it. I especially enjoyed going back to the Society. The author has another series regarding the Society and I kept reminiscing about how much i enjoyed that story. If you get a chance due so, it is called The Society Trilogy. Hope you enjoy it as much as I did. Oh back to this story. The story flowed and the journey of learning the secrets and the relationship between Alessio and Natalia and their respective relationship with Nino kept me pulled in and wanting more. The ending was the cherry on the top of the story cake. 4.5 stars for me. 
Kingdom Fall by A. Zavarelli
Tanya's rating:
4.5 of 5 stars


Kingdom Fall is an Underworld Kings series book. You don't need to read these books in any particular order. The only collective thing tying them together is a central location that'll be mentioned in each book. I do agree that every book can be read as a standalone, but they may be related to one of the authors own series. This is a great way to be introduced to a new to me author. It may or may not end in a cliffhanger. Kingdom Fall does end on one!

The books that I have read by this author have been great so far and this book is no exception! It was VERY good!!! Alessio Scarcello needs a nanny for Nino, a boy that he is caring for and calls his son. Natalia Cabrera was hired to be Nino's nanny.

I thought that this book was a little different in the fact that this author wrote Natalia with a disability. It wasn't one that she was born with. I loved how Natalia was a kick a** woman. In fact I might be a little afraid of her.

I totally enjoyed reading this book and I look forward to reading the next book written by this author.

 

 





Blurb:

I was a nanny in need of a job.

He was darkness personified.

I had little to call my own.

He was filthy rich, powerful, and dangerous.

The assignment was simple, and my goal was too.

Take care of his son. Keep my head down. When he least expects it, destroy him.

It should have been easy. I thought it would be until I looked into his stark blue eyes.

Kissing the enemy is a bad idea, but so is falling in love with him.

He doesn't know my crumbling foundation is built on lies.

When he discovers the truth, I'll find out if he's as brutal as I believe.

I came here to steal his life.

I didn't count on him stealing my heart.

 



About A. Zavarelli:

A. Zavarelli is a USA Today and Amazon bestselling author of dark and contemporary romance.

When she's not putting her characters through hell, she can usually be found watching bizarre and twisted documentaries in the name of research.

She currently lives in the Northwest with her lumberjack and an entire brood of fur babies.

 
Connect w/A. Zavarelli:

Facebook: https://www.facebook.com/azavarelliauthor/

Facebook Group: https://www.facebook.com/groups/943497375705372/

Instagram: https://www.instagram.com/azavarelli/

Twitter:https://twitter.com/AZavarellibooks

Mailing List: https://landing.mailerlite.com/webforms/landing/b7o9l3

Website: https://www.azavarelli.com

Goodreads:https://www.goodreads.com/author/show/13549895.A_Zavarelli

Amazon:https://www.amazon.com/A-Zavarelli/e/B00U2562W8

Bookbub: https://www.bookbub.com/profile/a-zavarelli

 

Check out more information on the books and authors coming this fall HERE—> https://under-world-kings.com

Keep up-to-date with all things Underworld Kings in the Reader Group HERE—> https://bit.ly/3ArB5vx