Title: Tied
Author: Carian Cole
Genre: Standalone Contemporary Romanc
e
Release Date: June 26, 2017
He was the myth and the legend of our small town. But no one
knew the truth… except me.
My childhood was stolen by a monster. I've forgotten what
love feels like. What happiness feels like. What hope feels like. I am numb.
He's possibly as damaged as I am. Maybe even more. Scarred just as much on the inside as the outside. Just like me. He doesn't speak. He doesn't smile. He hides in the woods like an animal.  I should be scared of him. But I'm not. He's the only one that has ever made me feel. And I want to make him feel, too.
everything…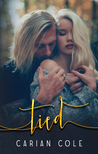 Tied by Carian Cole
Tanya Rae's rating: 5 of 5 stars
OMG! This book was great! Tied is an incredible story. It is a beautiful and emotional story. Both Tyler Grace and Holly Daniels are damaged. Both physically and mentally scarred from things that happened to them. I literally could not put this book down it was that good, from start to finish.
Tied is the second book in the Devils Wolves Series and is a spin off from Asher & Ember Series. And, it can be read as a standalone. But, you won't regret reading Torn the first book. Or by reading the Asher & Ember series either. At least I hope you won't.
Tyler and Holly once they find each other again. They will heal each other. There are a few twists in their story that I didn't see coming. And, it was fate that brought them together.
As you can see I love, love, love Tied! If I could give Tied more than 5 Stars I would. I voluntarily reviewed an Advance Reader Copy of this book.
*****************************************************
Lita T's Review: 
Tied (Devils Wolves Book 2) by Carian Cole.

 

I was really looking forward to this book after I had finished Torn. If you have not read that book please do. It is not necessary but it is a really good story on its own. Torn is where we are first introduced to Tyler. He lives a secluded life in the woods. He is disfigured due to an accident and he doesn't talk. He is shunned by the town's people who believe he is crazy and Tyler has distanced himself from his family. In Tied we learn what happened to him and discover his story. Tied was well worth the wait. The story begins with Tyler being out in the woods when he hears what he thinks is a wounded animal but finds a scared, dirty and malnourished girl in a hole with a dog. After pulling her out of the hole the finds out she is a girl who was kidnapped 10 years ago. This is their story of their own personal hell and their journey back told from their own perspective. Each is struggling to find their place in a world that views them as damaged goods and it is a title they cannot seem to get away from. I love the way the author told their story. I fell in love with the characters more and more. The more of the story I read the more I loved about them. I was disappointed that the book ended too soon. I wanted more of them and can only hope that they will be included in the next book. As in this book we learned more about the other siblings and their struggles and issues which gave me a glimpse into what could possibly be the next book. Bring it on! I voluntarily read an Advanced Reader Copy of this book and I give it 5 stars

 
Free in Kindle Unlimited
I have a passion for the bad boys, those covered in tattoos, sexy smirks, ripped jeans, fast cars, motorcycles and of course, the sweet girls that try to tame them and win their hearts. My debut series, Ashes & Embers, follows the lives of rock band members as they find, and sometimes lose, the loves of their lives.
Born and raised a Jersey girl, I now reside in beautiful New Hampshire with my husband and our multitude of furry pets and spend most of my time writing, reading, and vacuuming.