Genre: Contemporary Romance
Release Date: September 20, 2018
Book Description
Jalynn
I'm the girl who's always picking up the pieces of other people's mistakes.
Until tonight.
I accidentally cause one false start, and now I'm being pulled into a guy's car—who everyone only knows as Falcon—before an illegal street race.
He may not want anyone to truly know who he is, but he's met his match.
Game on, Falcon.
Austin
People know I run these races.
They know not to mess with me, or my car.
When the identity of the girl who causes a false start is revealed, I have to make an example of her.
Letting her see who I am was never the plan.
Neither was running into her the next day as my brother's new assistant.
She said she wanted nothing to do with me, but when I yank her into a janitor's closet, making sure she keeps my secret is the last thing on my mind.
She may want more than my secrets, but my racing may be the last thing I try to hide.
For a sneak peek inside AUSTIN, check out this exclusive excerpt on Book + Main!
Lita's T's Review: 4 Stars
Austin (Sexton Brothers) by Jeannine Colette & Lauren Runow is a cute story of Austin aka Falcon. Falcon is his street racing name. Austin is part of a wealthy family who are media moguls. Jalynn is Austin's brother's assistant. She is part of the racing world. After a false start at her hands she and Falcon have a thing and they have to balance that relationship at the office. Austin is considered the black sheep of the family and racing is an outlet for him. There is so much more to Austin. As his story unfolds we met a guy that I couldn't help but fall in love with him. The relationship between Austin and Jalynn is cute, funny and entertaining. The book was a really good start of this series. The ending of this story definitely has me wanting  more. I am looking forward to the next book. A 4 star read for me.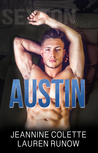 Austin
by
Lauren Runow
Tanya Rae's rating:
4 of 5 stars
Austin is by authors Lauren Runow and Jeannine Colette.
I enjoy reading both these authors books so when I saw that they were writing a book together I knew I had to read their book.Austin is a standalone romance and is Jalynn and Austin's story. Jalynn accidently starts an illegal street race and ends up being pulled into Austin aka Falcon's car. Falcon is Austin's street name since he doesn't want anyone to know who he is. Beckett her brother had her at the illegal street race.
I loved reading this story. Austin's brother is President of Digital Media with Sexton Media which he and his brothers own the controlling shares. Austin does his best not to let anyone know he is Falcon the one who arranges the illegal street races. This is how he blows off his stress, racing.
Now I can't wait to read Bryce's story. Austin's brother that owns Sexton Media. Coming in November 2018.
 About the Author:
Lauren Runow is the author of multiple Adult Contemporary Romance novels, some more dirty than others. When Lauren isn't writing, you'll find her listening to music, at her local CrossFit, reading, or at the baseball field with her boys. Her only vice is coffee, and she swears it makes her a better mom!Lauren is a graduate from the Academy of Art in San Francisco and is the founder and co-owner of the community magazine she and her husband publish. She lives in Northern California with her husband and two sons.
You can also stay in touch through the social media links below.
Facebook at https://www.facebook.com/laurenjrunow
Instagram at https://instagram.com/Lauren_Runow/
BookBub at https://www.bookbub.com/authors/laure…
Twitter at https://twitter.com/LaurenRunow
Join her reader group: https://www.facebook.com/groups/16285…
or sign up for her newsletter at http://eepurl.com/btD6j9
Jeannine Colette is the author of the Abandon Collection – a series of stand-alone novels featuring dynamic heroines who have to abandon their reality in order to discover themselves . . . and love along the way. Each book features a new couple, exciting new city and a rose of a different color.
A graduate of Wagner College and the New York Film Academy, Jeannine went on to become a Segment Producer for television shows on CBS and NBC. She left the television industry to focus on her children and pursue a full-time writing career. She lives in New York with her husband, the three tiny people she adores more than life itself, and a rescue pup named Wrigley.
Jeannine and her family are active supporters of The March of Dimes and Strivright The Auditory-Oral School of New York.