NOW LIVE! Bagging Alice by Laura Barnard
Get your copy of the hilarious Bagging Alice, the third standalone in the Babes of Brighton series –
mybook.to/BaggingAlice
Head on over to Laura's Facebook and Instagram pages (below) to enter her HUGE giveaway!
Synopsis:
Alice is used to taking photographs for a living – not having intimate pictures of herself posted for all the world to see, thanks to a disgruntled ex-boyfriend. Now her clients are cancelling appointments, and she's almost out of cash. What else could go wrong? Oh yeah, her room mate has scarpered leaving Alice completely out of luck.

Enter Tom 'man whore' Maddens. Having disappointed his father one time too many, he moves to Brighton, ready for a new start. And where better to begin it than in Alice's newly-vacant spare room? And if he tries to seduce her at the same time? Well he's just living up to his reputation isn't he?

But then he didn't bank on actually falling for her. Will his reputation as a commitment phobe put a stop to any sparks between the pair? Or can Alice put aside her trust issues and take a leap of faith for Tom?
Although a standalone, if you'd like to check out the first two books in the Babes of Brighton series here they
are:
Love Uncovered (Book 2) – mybook.to/LoveUncov
Lita T's Review: 4.5 Stars
Bagging Alice (Babes of Brighton,#3) by Laura Barnard is a cute story about a girl name Alice. She has cappy luck when it comes to boyfriends. This time she hit the jackpot. A mad ex posted naked pictures of her which has caused her clients to cancel working with her. To make matters worse, her roommate ups and moves out without notice. She has no way of making her rent till Tom "manwhore" Madden comes into town and needs a place to stay. Alice would rather eat dirt than have to deal with Tom but she doesn't want to have to go back home. Life with her parents is not something she wants to do. She will have to endure Tom. Even though this is book 3, it can be read as a standalone. I had not read the previous 2 books and had no issues reading this book. An enjoyable story of a young lady dealing with a casanova. She knows her track record and definitely doesn't want to get caught in Tom's web. Unbeknownst to Alice Tom has made a bet with one of his boys that he can bag Alice. This story is comical at times, heartfelt at times, sad at times along with being down right sweet. A 4.5 star story.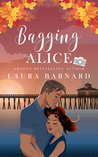 Bagging Alice by Laura Barnard
Tanya Rae's rating: 4 of 5 stars
Bagging Alice is book 3 in the Babes of Brighton and can be read as a standalone. Alice is obviously one of the main characters in this story, Tom is too. Alice's ex-boyfriend was really scum and we find out even more so toward the end of this book. She is now wary of dating and I can't say as I blame her. To have private photos posted all over the web, would make me wary.
She now needs a roommate because her roommate moves out leaving her without help for the rent.
Tom needs a place to live after he moves away from home. He is ready to start over with a new job and a new place to live. Tom's only problem is that he is a man whore. He will sleep with anyone so it seems. Alice doesn't trust Tom much mostly because of his reputation. And, you will need to read this book to know more.
I did read this book in one go. An enjoyable story! 4 stars.