Genre: Sexy Romantic Comedy/Contemporary Romance
Release Date: February 5, 2018
Some men are troublemakers or dealmakers. The men in my family? We're baby makers.
For six generations, the women of wine country have had a saying: don't bang a Hunter man unless you want a bun in your oven.
Yeah, well. I've got a saying too: no thanks. The last thing I need is baby makes three. My business is expanding and the only thing I'm interested in getting knocked up is my bottom line.
But then one night Emma Haverford makes me an offer I can't refuse—she backs away from the land I have my eye on in exchange for a favor…
A big, fat, baby making favor…
When I hear women have gotten pregnant shaking hands with Hunter men, I know I need Dylan Hunter's…ahem, special skills…way more than I need to expand my vineyard.
I'm ready to give my heart to a child and I'm tired of waiting for my late-to-the-party Prince Charming to make my dreams come true. So I promise Dylan—three months of hot, heavy, baby-making s-e-x and then I'm out of his hair forever.
But what if when it comes time to say good-bye, all I want to do is keep bottling up more memories with this big-hearted man?
This sexy Standalone romance will make you laugh, swoon, and blush baby-makin' red. Heat level: A risk of getting knocked up during download. Paperback and audio versions are especially dangerous. Handle with care…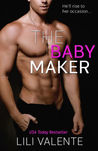 The Baby Maker by Lili Valente
Tanya Rae's rating: 4 of 5 stars
The Baby Maker is a cute swoonworthy standalone romance with a happy ever after. Emma Haverford wants a baby more than anything! Her biological clock is ticking.
Dylan Hunter is from a long line of "baby makers". It is well known that if you "bang a Hunter man" you will end up with "a bun in the oven".
Emma meets Dylan and pops the "big, fat, baby making" question. She gives him an offer that he can't refuse.
They end up having mind blowing sex and really end up liking each other. Oh and I loved the Oyster scene. It was spectacular!
I loved the rapport between Dylan and Emma. There was so much chemistry between the two of them and it is apparent that they have a lot of fun together and not just when they are getting it on!
I enjoyed reading the Baby Maker and give it 4 stars.
Narrated by Andi Arndt & Sebastian York
Lili Valente has slept under the stars in Greece, eaten dinner at midnight with French men who couldn't be trusted to keep their mouths on their food, and walked alone through Munich's red light district after dark and lived to tell the tale.


These days you can find her writing in a tent beside the sea, drinking coconut water and thinking delightfully dirty thoughts.